Chapter 1 – The Good, the Bad and the Ugly
After briefly explaining the simple meaning of "strategy", Kim takes a look at some strategy success stories but concludes that "good strategy is not just about the occasional brilliant choice, made at particular points in time, but is continually developed and reinforced to carry a company from being a bright, first-to-market entity through the challenges of maturity, dealing with competition and staying relevant throughout its life."
He then goes on to look at "the bad" and says: "Poor, but not disastrous, strategic management comes in many forms. The easiest examples to spot are one-off errors that clearly have negative outcomes, for example, diversifications that should never have been made, misguided entry into new markets, or acquisitions that were never going to deliver any benefits." But he points out that we never hear of the much wider problem, of companies struggling on and continually failing to reach their aims and potential because of poor strategy and implementation.
Example of "the ugly" mistakes in strategy are all over the business Press, so this chapter does not dwell here long on these examples.
The chapter ends with some basic principles management might follow to avoid the "bad" and "ugly" outcomes in their own situations, although these are not enough on their own – principles from later chapters are also important.
References
Not all references may be available freely to all readers or in all regions.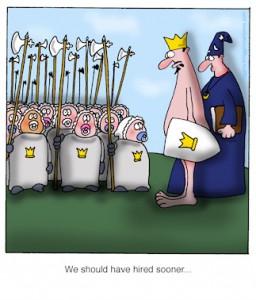 Cartoon by "Higgins"